Caricatures (Page 4)
Jack's Place is more than just a unique steak house in the Orlando dining scene. Nestled in the hub of International Drive amongst many attractions, Jack's Place hosts the most comprehensive collection of caricatures in Orlando. All hand drawn by Jack Rosen, father of hotelier and philanthropist Harris Rosen, this gallery includes autographed caricatures of actors, athletes, and influential people such as Neil Armstrong, Queen Elizabeth, and Alfred Hitchcock.

Stokowski, Leopold (Tables 24-34)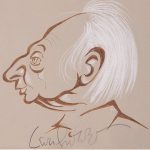 Leopold Stokowski was a British conductor of Polish and Irish descent. One of the leading conductors of the early and mid-20th Century, he is best known for his long association with the Philadelphia Orchestra and for appearing in the film Fantasia. He was especially noted for his free-hand conducting style that spurned the traditional baton and for obtaining a characteristically sumptuous sound from the orchestras he directed.
– Located at tables 24-34
Streisand, Barbra (Entrance)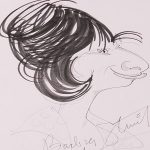 Barbra Streisand is an American singer, songwriter, actress, and filmmaker. In a career spanning six decades, she has become an icon in multiple fields of entertainment, which earned her two Academy Awards, ten Grammy, five Emmy Awards, a Special Tony Award, an American Film Institute award, a Kennedy Center Honors prize, four Peabody Awards, the Presidential Medal of Freedom, and nine Golden Globes.
– Located at the Entrance
Taylor, Elizabeth (Tables 24-34)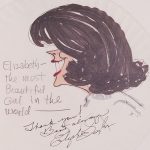 Elizabeth Taylor was a British American actress, businesswoman, and humanitarian. She began as a child actress in the early 1940s, and was one of the most popular stars of classical Hollywood cinema in the 1950s. The American Film Institute named her the seventh-greatest female screen legend in 1999.
– Located at tables 24-34
Thatcher, Margaret (Table 10)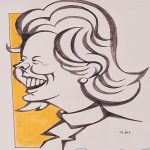 Margaret Thatcher was a British stateswoman who was the Prime Minister of the United Kingdom from 1979-1990 and the Leader of the Conservative Party from 1975-1990. She was the longest-serving British prime minister of the 20th century, and the first woman to have held the office. A Soviet journalist dubbed her The Iron Lady, a nickname that became associated with her uncompromising politics and leadership style. As Prime Minister, she implemented policies that have come to be known as Thatcherism.
– Located at table 10
Tito, Josip Broz (Table 10)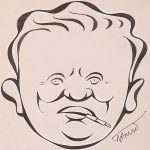 Josip Broz Tito was a Yugoslav revolutionary and statesman, serving in various roles from 1943 until his death in 1980. During World War II he was the leader of the Partisans, often regarded as the most effective resistance movement in occupied Europe.
– Located at table 10
Tolstoy, Leo (Table 15)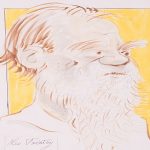 Leo Tolstoy was a Russian writer who is regarded as one of the greatest authors of all time. He is best known for the novels War and Peace (1869) and Anna Karenina (1877), often cited as pinnacles of realist fiction.
– Located at table 15
Toscanini, Arturo (Tables 24-34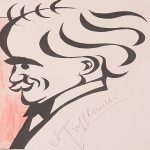 Arturo Toscanini was an Italian conductor. He was one of the most acclaimed musicians of the late 19th and of the 20th century, renowned for his intensity, his perfectionism, his ear for orchestral detail and sonority, and his eidetic memory. Later in his career he was appointed the first music director of the NBC Symphony Orchestra 1937–1954. This led to him becoming a household name through his radio and television broadcasts and many recordings of the operatic and symphonic repertoire.
– Located at tables 24-34
Tracy, Spencer (Tables 24-34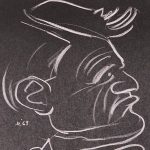 Spencer Tracy was an American actor, noted for his natural style and versatility. One of the major stars of Hollywood's Golden Age, Tracy was nominated for nine Academy Awards for Best Actor and won two. During his career, Tracy appeared in 75 films and developed a reputation among his peers as one of the screen's greatest actors. In 1999 the American Film Institute ranked Tracy as the 9th greatest male star of Classic Hollywood Cinema.
– Located at tables 24-34
Truman, Harry S. (Table 41)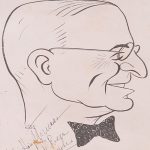 Harry S. Truman was an American politician who served as the 33rd President of the United States. He is known for launching the Marshall Plan to rebuild the economy of Western Europe, for leading the Cold War against Soviet and Chinese communism by establishing the Truman Doctrine and NATO, and for intervening in the Korean War. Truman maintained that civil rights were a moral priority, and in 1948 submitted the first comprehensive civil rights legislation and issued Executive Orders to start racial integration in the military and federal agencies.
– Located at table 41
Updike, John (Table 15)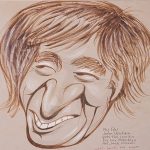 John Updike was an American novelist, poet, short story writer, art critic, and literary critic. Updike was one of three writers to win the Pulitzer Prize for Fiction more than once. He published more than twenty novels, more than a dozen short-story collections, as well as poetry, art and literary criticism and children's books during his career. Hundreds of his stories, reviews, and poems appeared in The New Yorker starting in 1954.
– Located at table 15
Walesa, Lech (Tables 11-13)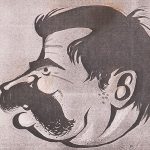 Lech Wa??sa is a retired Polish politician and labor activist. He co-founded and headed Solidarity, the Soviet bloc's first independent trade union, won the Nobel Peace Prize in 1983, and served as President of Poland from 1990 to 1995.
– Located at tables 11,12,13
Warhol, Andy (Tables 24-34)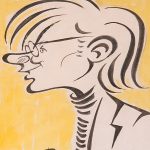 Andy Warhol was an American artist who was a leading figure in the visual art movement known as pop art. Warhol has been the subject of numerous retrospective exhibitions and books, as well as feature and documentary films. The Andy Warhol Museum in his native city of Pittsburgh, which holds an extensive permanent collection of art and archives, is the largest museum in the United States dedicated to a single artist.
– Located at tables 24-34
Washington, Booker T. (Table 15)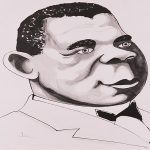 Booker T. Washington was an American educator, author, orator, and advisor to presidents of the United States. Between the years 1890-1915, Washington was the dominant leader in the African-American community. His long-term goal was to end the disenfranchisement of the vast majority of African Americans, who at that time still lived in the South.
– Located at table 15
Wayne, John (Tables 24-34)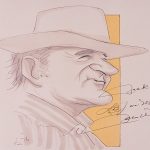 John Wayne was an American actor and filmmaker. Wayne's career took off in 1939 and he was among the top box office draws for three decades. An Academy Award-winner, Wayne starred in 142 pictures through his career.
– Located at tables 24-34
Westmoreland, William (Entrance)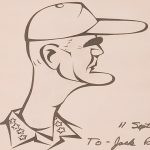 General William Westmoreland was a United States Army general, who most notably commanded U.S. forces during the Vietnam War from 1964 to 1968. Westmoreland was a popular figure, becoming a full four-star general and being named TIME magazine's "Man of the Year" in 1965. He served as Chief of Staff of the United States Army from 1968 to 1972.
– Located at the Entrance
Wright, Frank Lloyd (Entrance)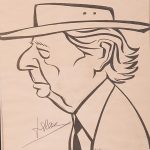 Frank Lloyd Wright was an American architect, interior designer, writer, and educator, who designed more than 1,000 structures, 532 of which were completed. Wright believed in designing structures that were in harmony with humanity and its environment, a philosophy he called organic architecture. Wright was a leader of the Prairie School movement of architecture and developed the concept of the Usonian home. Wright was recognized in 1991 by the American Institute of Architects as "the greatest American architect of all time".
– Located at the Entrance