About Us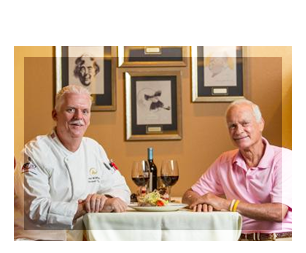 Jack's Place, specializing in prime steaks and fresh seafood, is dedicated to the memory of my father, Jack Rosen, who was born in 1914 in New York City. He was the fifth of five sons born to Celia and Harry Rosen, Russian immigrants who came to the United States seeking a better life for themselves and their family. Soon, the family opened a small restaurant in their neighborhood on the Lower East Side, and Jack worked hard to make the restaurant a success.
In 1932, my father landed a job as Safety Engineer at the Waldorf Astoria Hotel. He would meet countless celebrities during his 30 years with the renowned hotel, and he utilized his talent for art, along with a strong sense of humor, to sketch caricatures of these famous guests — such as Alfred Hitchcock, Neil Armstrong and Queen Elizabeth II.
Jack's attention and interest in his fellow man went much further than just famous people. Throughout his life he volunteered with the "52 Association," an organization whose motto, "The wounded shall never be forgotten," challenged him to visit veterans' hospitals throughout the nation to cheer up thousands of wounded veterans with his humorous caricatures. This devotion led to an invitation to Vietnam during the war where he spent several months drawing caricatures of wounded military personnel. Upon his return, he received the Medal of Commendation from President Lyndon Johnson in appreciation for his work there.
Overall, my father is credited with creating more than 100,000 caricatures, which is believed to be the most in the world. A small fraction of his work has been selected for display in Jack's Place to represent both his work and his legacy. We hope that you will recognize in them the extraordinary vitality and the wonderful sense of humor that dominated his life.
– Harris Rosen
President, Rosen Hotels & Resorts