|
Corporate Events & Buyout
Corporate Events & Buyout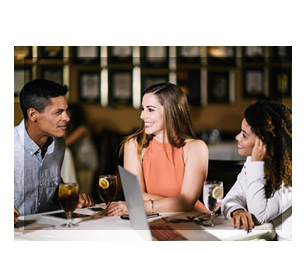 Jack's Place offers guests a star-studded experience with fine quality gourmet meals and first-rate service. We're a truly unique steakhouse on International Drive. The hundreds of autographed caricatures of famous actors, athletes, and influential people surely will spark interesting conversations. Reserve seating for a corporate dining event your team and clients will not forget. From semi-private dining options, executive dining for up to 32, to a complete restaurant buyout, our flexible planning accommodates your specific needs. If your event calls for a soiree, reception, or happy hour social, Jack's Lobby Lounge—with a full-service bar, tables, and lounge area—is a great venue for such corporate and private gatherings.
Events and Buy Outs:
Semi Private events
Executive style table set ups for up to 32
Total Room Buy outs
Jacks Lobby Lounge Receptions
Event course menus
3-Course Menu (Click here for more information)
Sketch
Finished Art
Masterpiece
4-Course Menu (Click here for more information)
Sketch
Draft
Finished Art
Masterpiece
5-Course Menu (Click here for more information)
Sketch
Draft
Design
Finished Art
Masterpiece
Testimonials
Jackie and John, I again wanted to thank both of you for all of your efforts in making what is a very important week for Strike King an overwhelming success. Jackie, you are always there willing to do whatever I come up with (at the last minute… ) with a servants heart and I can't thank you enough. John, the events were extremely well received and everyone had nothing but praise for the food, drinks, facilities and of course your staff. (Tell the folks at Jack's not to expect an extra 20% every year…. Miguel was very pleased! – we had a good year this year so we wanted to share the joy a bit with the excellent staff that made that dinner really special. Who knows how next year will be?) I enjoyed very much getting to know you a little better and learning about the road you've traveled to where you are now at the Rosen Plaza.
Please thank everyone for me. Miguel, Hector and his staff, your 3NINE Orlando general manager, his manager and staff. Our ownership group (my bosses) where very pleased with everything and we look forward to seeing you there through 2019.
Photo Gallery